Pod Building Research
---
---
Print On Demand
Part of the inspiration for this project is Print On Demand book technology …
"Put simply, print-on-demand (POD) means you can print just one book at a time. In the past, to keep unit prices down books had to be printed in their hundreds. This was not only expensive but it also meant that if the book sold only a few copies, publishers would be left with the headache of leftover stock."
"Instead of going to the mall to buy your books, you'll just buy them on iTunes, then go to the nearest machine to Fairplay yourself a no-frills hard copy for a bucks or two. Barnes and Noble will be reduced to a coffee house and a vending machine: it's no coincidence they called this thing the Espresso."
---
Open Content
"Open content, a neologism coined by analogy with "open source", describes any kind of creative work published in a format that explicitly allows copying and modifying of its information by anyone, not exclusively by a closed organization, firm or individual. The largest open content project is Wikipedia."
This is the "Global Knowledge" bit of the project. The online database of virtual buildings, or at least most of it, should be released under some sort of an open content licence so that everybody can test, adapt and improve the designs, and so that nobody anywhere in the world is deprived of housing just because they cannot afford to pay for a design. Of course designers need to earn a living as well, which is why I would favour using something like the Creative Commons licencing scheme, so that different designs and variations could be released with different rights reserved, for instance, a designer could release a basic design for free, but charge for custom variations on that design. They could also choose whether or not to allow others to charge for variations they make to the original design.
A Guide To Open Content Licences - Lawrence Liang
"There is however another movement which is growing in popularity which recognizes the need for a pro-active approach towards building a public domain of materials which can be used in the future without necessarily having to obtain prior permission from the copyright owner or having to pay hefty royalties. It seeks to counteract the unrestricted growth of copyright. This movement is sometimes popularly called the copyleft movement. Its historical roots lie in free software (such as Linux and GNU), but more recently, it attempts to broaden its scope and apply the principles of free distribution, usage and collaborative development, to all kinds of media."
"Too often the debate over creative control tends to the extremes. At one pole is a vision of total control — a world in which every last use of a work is regulated and in which "all rights reserved" (and then some) is the norm. At the other end is a vision of anarchy — a world in which creators enjoy a wide range of freedom but are left vulnerable to exploitation. Balance, compromise, and moderation — once the driving forces of a copyright system that valued innovation and protection equally — have become endangered species.
Creative Commons is working to revive them. We use private rights to create public goods: creative works set free for certain uses. Like the free software and open-source movements, our ends are cooperative and community-minded, but our means are voluntary and libertarian. We work to offer creators a best-of-both-worlds way to protect their works while encouraging certain uses of them — to declare "some rights reserved."
---
Of all the ways of working I have looked at, this is the closest to my idea. The research is from 2005 and doesn't make use of the latest BIM advances. It would be very interesting to know how much further this could go now.
Rapid Manufacturing Research Group - Dr Rupert Soar - Loughborough University
"Freeform Construction is about 'printing' buildings, as if you were printing this page. It's about combining the whole design, construction and maintenance process into a seamless operation to produce structures and components which meet the challenges of our changing world and which will allow us to build on any terrain, against any backdrop, anywhere on the Earth, the Moon or Mars."
"For applications such as disaster relief and construction in arid environments, mobile Freeform Construction machines could be driven out to the site and may resemble a concrete boom pump device. The key to these devices is in-situ resource utilisation (ISRU), which implies that the build material is sourced locally and loaded into the machine for building to begin. This means anything from mud to light aggregate material which can be crushed and mixed with a binder for deposition."
---
Building Information Modelling
Building Information Modelling software such as AutoDesk Revit, Graphisoft ArchiCad and Gehry Technologies Digital Project.
Journal of Building Information Modelling
"a single intelligent model can be used to generate construction documents, explore building assemblies or constructability, estimate costs, simulate building performance and even build physical models using the latest in rapid prototyping."
Professor Hector L. Camps, PHI Cubed, Inc in BIM, Education and the Global Economy, Journal of Building Information Modelling, Spring 2008
Revit screenshot …

ArchiCad …

---
Projects using a BIM model
"Cellophane House was drawn in three dimensions with building information modeling (BIM) software called Revit. This 3D solid, or parametric model, forms the basis for design, development, fabrication and assembly of the house. Parametric modeling is what made simultaneous off-site fabrication of this project possible. Without the geometric and dimensional certainty afforded by the closure of the parametric model - each dimension is accurate within 1/32 of an inch - parts could not be assembled in advance to the required tolerances. Therefore, dimensional discrepancies are reconciled in the model, instead of on the construction site."
---
MIT digitally fabricated house
"The design is a digital translation of the New Orleans' style Shotgun House, complete with an ornamental front façade and a porch elevated off the ground on piers to allow flood-waters to rise and fall beneath the house. Every component of the house, from the structural members to the frieze ornamentation, was first digitally modeled and then CNC fabricated from plywood and plastic for a precise interlocking assembly."
quick facts
* Entirely friction fit - no nails, screws or mechanical fasteners
* Composed of over 5,000 unique parts all fabricated on 2 CNC machines in 3 weeks
* 21 days for assembly by 3 people
---
Freedom Tower
Designed using Revit - Autodesk's BIM package
---
Gehry Technologies Digital Project
Beijing National Stadium

One Island East …

Der Neue Zollhof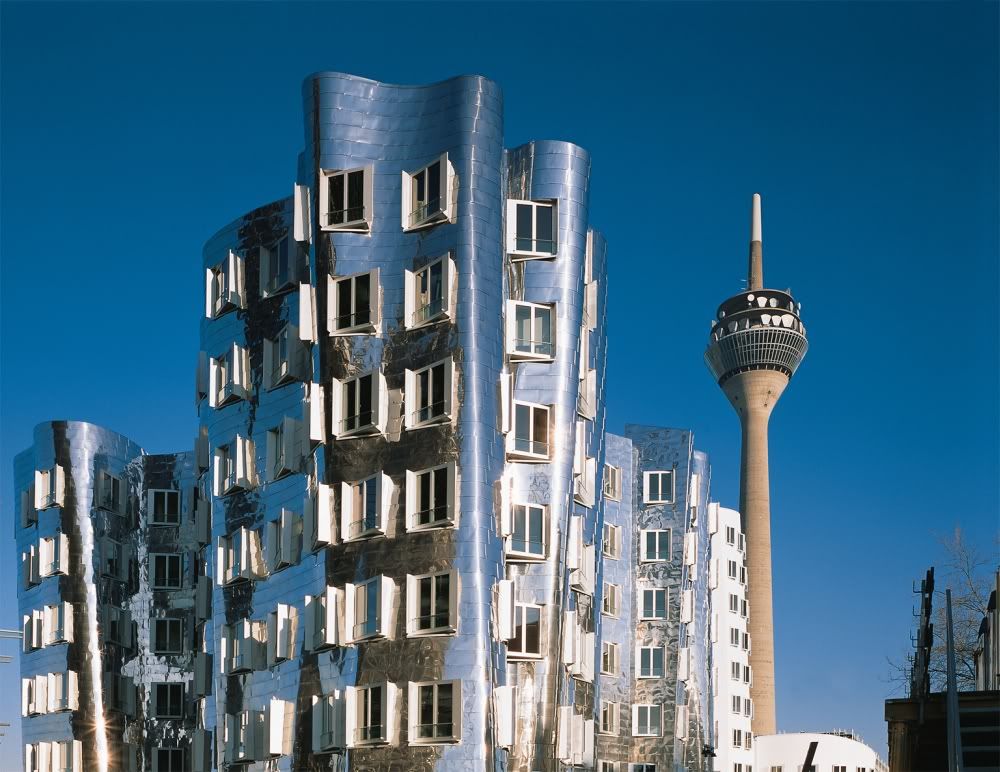 "BUILDING IN A COMPUTER: a CATIA rendering of Frank Gehry's Der Neue Zollhof buildings in Dusseldorf, Germany. In this design, CATIA allowed the architectural team to specify the size and dimensions and of each window while maintaining the curvy building forms. In Germany law requires that every office have its own window. Image Courtesy Frank O. Gehry and Associates"
---
Druk White Lotus School, Ladaqh, India (Revit)
This building uses entirely locally sourced materials.
---
Materials
"Water block is a piece of plastic tank. By piling them up, you can build anything from furniture to a house. It is very light and easy to carry around. Water or other types of liquid can be stored inside. It is in the shape that each cube of 100×100mm is connected staggeringly so they can be turned into a variety of shapes. Furthermore, it can form a strong structure by joining its concave and convex firmly. Moreover, Water block is a trial case of using PET, the Hydro/Biodegradable polyester that can eventually go back to the ground. If it is successful, a new sustainable recycling system will be realized that takes the route from a container, to construction material, and to soil."
---
iplas recycled plastic building material
* One tonne of i-plas recycled plastic saves 1.66 tonnes of CO2 emissions
* Producing a ton of concrete generates almost a ton of CO2 emissions
* Annually 3 million tonnes of plastic waste is created in the UK and only 7% is recycled
* Plastic can take up to 5,000 years to degrade in landfill
* 1.8 tonnes of oil are saved for every tonne of recycled polymer produced
* The energy saved by recycling one plastic bottle will power a computer for 25 minutes
---
the Gobi Building System, a flat packed, stackable plastic unit which, when slotted together and filled with any available local material can be used for many construction purposes, easy to use even for DIY novices.
The principal advantages of the Gobi units are the ease of transport particularly to remote areas, quick erection, local filling materials are used to add strength to the structure avoiding the need to transport in bulky conventional blocks or brick.
---
"In the poverty-stricken countryside of Paraguay, a landlocked country in the heart of South America, an innovative social activist has found a new use for an old vegetable. Elsa Zaldívar, whose longstanding commitment to helping the poor while protecting the environment has won her deep respect in her native land, has found a way to mix loofah – a cucumber-like vegetable that is dried to yield a scratchy sponge for use as abrasive skin scrubber – with other vegetable matter like husks from corn and caranday palm trees, along with recycled plastic, to form strong, lightweight panels. These can be used to create furniture and construct houses, insulating them from temperature and noise. About 300,000 Paraguayan families do not have adequate housing."
---
BIM and manufacturing
"Tekla's Building Information Modeling (BIM) solution Tekla Structures is an innovative tool that facilitates open integration with, for example, architectural models while supporting the end-to-end construction process."
---
StruCad
"The StruCad database enables the bi-directional transfer of design data streamlining the engineering, design and detailing functions, whilst fabrication data and drawings are automatically generated by the system."
Al Kazim Towers, Dubai, designed and manufactured using StruCad …
---
More things to consider …
Physical manifestation of website; server domain and backline code, due diligence checking of designs and local building code compliance. Possibility of a widget to do most of this online?
"Black box" device (similar and incorporating gbXML (Green Building Extensible Mark-up Language) and IFC (Industry Foundation Classes) compliant software) to port information from BIM model to Rapid Construction machinery. Types of rapid construction machinery and portability issues, different machines required forstructural steel, concrete, plastics, earth based aggregates, etc. Could these be "container-ised" for portability to site on the back of a truck?
Online service must have geospatial data, to deal with the physical elements that the building will have to cope with, eg weather data, sunpath analysis, rainfall, etc.
---